All about Spanish Tapas, the bite-sized flavour of Spain
From tapas origins and history to recipes, ingredients and methods. What to buy, where to buy it and how to prepare it
Spanish tapas is at the very heart of their lifestyle and culture. Everywhere you go in Spain you will find lively and noisy bars serving small plates of superb flavours and local delicacies.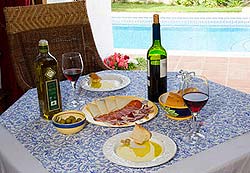 In its most basic form tapas is simply a small snack or appetiser taken with a drink or two at lunchtime or in the early evening before the main meal.
It is essentially a style of eating rather than a form of cooking.
Tapas means sociability, friends and family. The Spanish in general won't drink without eating something as well.
This prompted canny bar owners into providing a morsel or two of food to encourage more customers into their bars. Originally these small snacks were given free to anyone who bought a drink in the bar but now you will nearly always have to pay for them.
Spain's little secret is out!
Now, throughout the world, Spanish tapas has become a popular and healthy addition to the many food styles and cuisines available to us today. Everyone is joining in and realising how pleasurable eating in this way can be.
And why not? When you begin to see the sheer range of flavours available you will, I'm sure, want to find out more about 'the small plate with the BIG flavour'.
Wherever you live, Spanish tapas will give you a tasty little mouthful of the real Spain without having to jump on an aeroplane to enjoy it! You can bring a little Spanish sunshine right into your own home - right now!
Just click on the links below, or on the nav bar above, to start discovering the mouth-watering world of Proper Spanish Tapas.