Links and Resources
For more excellent information on a variety of food-related subjects please visit the website resources below.
Tapas Recipes Book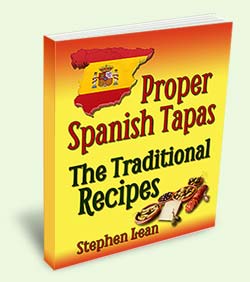 Available as a Paperback, on Kindle, ePub or PDF. Download it NOW to the reader of your choice.
Each of the following websites has, we feel, its own unique voice on the subjects of food, drink and Spain in general. Please have a browse through them and I'm sure you will agree.
Please also let us know if you come across any other sites that you feel would be of interest to you, or any of our other visitors, so that we may include them here.
Malaga Airport Car Hire
Cheap deals on car rentals if you're coming to visit Andalucia for a taste of Spain.
Clifford A. Wright
One of the leading English-speaking experts on Mediterranean and World cuisines. An absolute mine of food information and history.
The Reluctant Gourmet
Down-to-earth cooking help, advice and recipes dedicated to all novices out there, especially those who want to see how easy it is to create great meals with little experience.
Decanter Wines
An excellent UK site which will give you in-depth information about choosing, buying, storing and tasting Spanish wines.
Food Reference Website
Articles & trivia about food, recipes, quotes, events, cooking schools & tours, food art, cookbook reviews, humor & poetry, crosswords.
Hub-UK
Recipes, cooking, food and cooking holidays. Hub-UK is very much a who, rather than a what, and is made up from a group of people all contributing to what they enjoy the most- the cooking of good food.
Fromages.com
From 1997, Fromages.com offer to cheese fans a selection of traditional french cheeses delivered worldwide by express delivery.
The Epicurian Table
Quality food with a European flair for the discriminating palate and those with an appreciation for the sensuousness of good food.
Sherry.org
A superb and comprehensive guide to Spanish sherry. The site covers history and the whole process of harvesting, fermentation, pressing and maturing.