Drinking sherry with your tapas
No website or book about tapas would be complete without a page or two about sherry. It is a match made in heaven.
The first documented mention of sherry comes from 1 BC, and this documentation mentioned original vines brought by the Pheonicians in 1100 BC!
There is absolutely nothing wrong with wine, or beer, or anything else that takes your fancy to have with your tapas. But until you try it with sherry, you're missing out on a taste tradition going back thousands of years.
First things first: The Spanish do not call their wine 'sherry'. This is an anglicised version of the word 'Jeréz' (which is pronounced 'hereth' with the accent on the second 'e'). To be considered a genuine 'sherry' a wine must come from the 'sherry triangle'.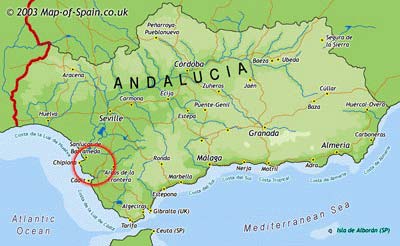 This is a region on the Atlantic coast of Andalucia bordered by the towns of Jerez de la Frontera, El Puerto de Santa Maria and Sanlúcar de Barrameda. So, no matter what it says on the bottle, anything else is just fortified wine in the style of Jeréz.
There is a type of sherry for every kind of food and a little understanding of what's available and what goes with what will make your tapas experience even more enjoyable.
Serving and storing your sherry