The Spanish wine types, qualities and regions
The basic types of Spanish wine
Tinto - red
Rosado - rosé
Blanco - white
Cava - sparkling wine, made in the style of champagne.
The different qualities
Spanish wine labels are not really that difficult to get a grasp of so I'll start with the different quality and price levels, lowest first.
Vino de mesa - wine of the table, general house wine or 'plonk'. More often than not a good, cheap choice in country restaurants, as the locals won't put up with rubbish.
Vino joven - young wine, usually from a Denominación de Origen (D.O.) region, with a bit of ageing.
Crianza - a two year old wine that's been aged at least 6 months in barrel and 18 months in bottle.
Reserva - a quality three year old wine that's been aged at least 12 months in barrel and 24 months in bottle.
Gran reserva - a best-quality five year old wine that's been aged at least 24 months in barrel and 36 months in bottle.
The sweetness of wines (whites and cavas)
Dulce - sweet
Semi-seco - medium-dry
Seco - dry
Brut - very dry
Other useful terms to remember
Bodega - winery
Añejo - aged
Cosecha - year of vintage
The Denominaciones de Origen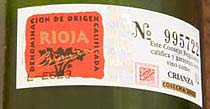 Most Spanish wines that you may come across are classified under a regulating system known as Denominaciones de Origen.
This is the same as the Apellation Controlee of France and tells us that the wines we are buying are regulated and controlled by a governing body.
'D.O.' wines will be from the specified region and will adhere to the qualities and characteristics of the region which gives it its D.O. seal.
That doesn't necessarily mean it's the best wine in the world, but at least you'll know where it comes from and that some kind of control is behind it.
The wine regions
Finally, let's look at the different regions which are best known for their quality wines.
You can be fairly assured that a decent bottle from any of the following D.O. regions will not disappoint.
Reds: Rioja, Ribera del Duero, Toro, Priorat, Navarra, Cariñena, La Mancha, Valdepeñas, Jumilla, Bierzo, Almansa, Montsant, Yecla, Campo de Borja, Castilla, Valdepeñas, Manchuela
Whites: Rías Baixas (Albariño), Rueda, Penedès, Ribeiro Valdeorras, Txacolí regions (Basque Country), Alella, Lanzarote
Rosés: Navarra, Cigales, Utiel-Requena
Well-rounded Regions (Reds, whites and rosés): Somontano, Penedès, Costers del Segres, Catalunya, Madrid
Sweet Wines: Valencia (Muscatel), Malaga (Pedro Ximenez), Montilla-Moriles (Pedro Ximenez), Lanzarote (Malvasía)
Phew! There are a lot of different regions here, and this is a lot of info to absorb in such a short space of time. There's no rush though, just get out there and try as many as you can cope with before falling over!
If you would like to buy Spanish wine online then you can find a good selection at La Tienda.com.