Spanish Tapas Ebook - The Traditional Recipes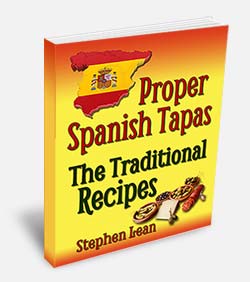 There are hundreds of so-called 'tapas' recipe books out there, but many of them seem to be just random collections of recipes for small appetisers and starters. To my mind this is not Proper Spanish Tapas, but then I'm a bit of a traditionalist at heart.
So I thought I would put together a collection of some of the classic tapas dishes as served by Spanish people, to Spanish people, in Spain.
And, to make it a no-brainer, I also thought I would price it at a price everyone can afford.
This book concentrates solely on the traditional Spanish tapas which are found in bars all over Spain.
Here you will find 32 of the best classic recipes, divided into four sections. See a list of the full contents by clicking the blue button below.
Contents
Introduction

Ingredients

Egg and Cheese Recipes

Manchego cheese
Tortilla de Patatas (Spanish Omelette)
Mediterranean eggs
Huevos revueltos con jamon (scrambled eggs & serrano ham)

Fish Recipes

Boquerones al vinagre (Anchovies in Vinegar)
Boquerones fritos (Fried anchovies)
Calamares Fritos (Fried Squid)
Gambas al ajillo (Garlic prawns)
Gambas pil-pil (Chilli & garlic prawns)
Ensalada de atun y huevos (Tuna and egg salad)
Pimiento asado y atun (Tuna and roasted red pepper)
Atun y aceitunas con pan (Tuna and olive tapenade crostini)
Buñuelos de bacalao (Salt cod fritters)
Almejas con vino blanco (Clams with white wine)

Meat Recipes

Jamón Serrano & Ibérico
Jamón Serrano with Almonds
Jamón, tomate y ajo con pan (ham, tomato and garlic bruschetta)
Jamón y queso tostadas (grilled serrano ham and manchego cheese bruschetta)
Albóndigas (Meatballs in spicy tomato sauce)
Croquetas de Jamón (Serrano ham croquettes)
Empanadas de Cerdo (pies of pork!)
Garbanzos y chorizo (Chickpeas and chorizo)

Vegetable Recipes

Olives a la Sevillana
Chilli Olives
Patatas Bravas (Crispy potatoes in a spicy tomato sauce)
Ensalada rusa (Russian salad)
Croquetas (croquettes)
Champiñones al ajillo (garlic mushrooms)
Champiñones al pimienta (peppered mushrooms)
Almendras (fried almonds
Roasted Spicy Almonds
Deep-fried Aubergine with honey

Origins & Regions

About the author
Ordering and delivery
This book is an ebook and is available as a Kindle book, an ePub book, or a PDF document, all of which are instantly downloadable. You could be reading it within five minutes, and trying out a recipe or two within ten!
Below are the links to purchase the book.
The Kindle Book - Only £2.99 / $4.79
If you would like a copy of the Kindle version, just click one of the graphic links below and order directly from your country's Amazon.

The ePub Book - Only $4.79
The ePub format is used by Apple iPad/iBooks, Nook, Sony Reader, Kobo, and most e-reading apps, including Stanza, Aldiko, Adobe Digital Editions and others. Click the graphic below to buy it from Smashwords in the format for your ereader.

The PDF Book - Only £2.99
Just click the 'Buy it now' graphic below and you will be taken straight to PayPal, where you can buy it, even if you don't have a PayPal account.

Once you have purchased your pdf book, you will immediately be sent a download link by email, just click this link and download your book.
Please note: To prevent unauthorised downloading and/or link-sharing of this pdf book, the link you are sent is time-sensitive, please download your book as soon as possible. If you have any problems at all, please contact me.