Tapas Ingredients
To make the most of your recipes, you need a few of the following common tapas ingredients stashed away in your larder cupboard. That way you will always have the basics to rustle up something quick when friends come a-calling.
Tapas Recipes Book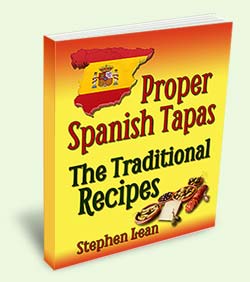 Available as a Paperback, on Kindle, ePub or PDF. Download it NOW to the reader of your choice.
Ingredients and improvisation.
The important thing to remember is that nothing is set in stone as far as tapas is concerned. Use a bit of initiative and a bit of Spanish improvisation. And if you don't have a specific ingredient, try something else that's similar - you might just invent something special!
Store-cupboard basics.
Olives and olive oil: Just about the most important ingredient in all tapas dishes, olives and olive oil are covered in detail in their own sections.
Serrano ham (jamon): The best known of the Spanish jamónes is Serrano ham and the best jamón Serrano comes from the black Iberian pig. This is known as jamón Iberico. Again, this is so important that it has its own section.
Cheese (queso): Spain produces many different cheeses but Manchego cheese is the most well-known and widely-available. Manchego is made from sheeps milk and can be anything from soft-ish and mild to strong, nutty and hard.
Garlic (ajo): Need I say more?!
Onions (cebollas): Spanish onions range from sweet and mild to strong and pungent. Just use whatever you've got.
Chorizo: The most widely-available chorizos are fully dry-cured and can be eaten without cooking. They are available either picante (hot) or dulce (mild and sweet). The best chorizos can contain up to 95% pork with the remainder being made up from pork fat, salt, garlic and paprika. It is the paprika which give them their characteristic red colour. The other type of chorizo, which has be to cooked, is found in stews and in bean and potato dishes. These chorizos are shorter and come joined together just like your English sausages.
Almonds (almendras): A pack or two of whole, blanched and skinned almonds.
Chillies: These add their heat and distinctive flavour to many dishes. There are many different varieties and strengths of chilli. Your best bet is to have a selection to suit your taste and tolerance. Choose from the larger green ones, which are generally milder, to the fiery little red ones which will take the enamel off your teeth!
Herbs: Parsley (perejil) is widely used in tapas. The flat-leaved Italian type is best. Other herbs which can be used regularly are oregano, basil, bay leaves and thyme. It makes sense to always have some of these in stock. If you've got a bit of mint in your garden, this can come in handy too for the Moorish-influenced dishes.
Paprika (pimenton): This is made from ground dried red peppers. It is used in many Spanish dishes, adding its characteristic flavour and colour.
Peppers or capsicums (pimientos): From green to yellow to red, each is just a different stage of ripeness of the same fruit. Red ones are the most ripe and the sweetest flavour. They are cheap and last for ages in the refrigerator so there's no excuse for not having a couple at all times.
Tomatoes (tomates): Well-flavoured tomatoes should always be in your larder.