Introduction to Spanish Tapas
We invite you to come with us on a journey of tapas discovery, limited only by how long you can sit here reading before your mouth starts salivating and you simply have to get up and try something out!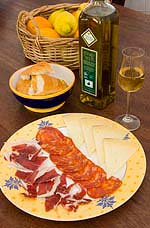 Here you will discover everything you ever wanted to know about Spanish Tapas, "the small plate with the big flavour". Plus lots of other facts and fancies that you may not have realised you wanted to know about food, recipes, Spain and the Spanish way of life.
Our aim is simple:
We hope that if you are interested in cooking, preparing or serving the enormously varied Spanish tapas recipes of Spain, then you will come back to visit us time and time again.
Such is the diversity of tapas that in bars all over the world you can order virtually anything that takes your fancy. From an exotically-flavoured, spicy Moorish dish to a simple bowl of olives, the choice is entirely yours.
But oh, my friend, what a choice it is!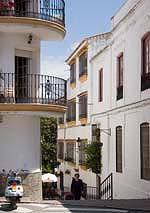 How about a plate of succulent, wafer-thin slices of serrano ham or jamon iberico? If you haven't tried this yet then you have missed out on one of life's gastronomic pleasures. It truly is heaven on a small plate!
A glass of Manzanilla sherry with some salty and nutty Manchego cheese is very popular with the locals.
Spanish tapas means friends and family
You can keep it simple or you can make it as complicated as you like. But whichever way you prefer it, tapas is best served with an early evening drink among friends and lively company. You will not, I promise you, find a more pleasurable and flavour-filled experience anywhere in the world.
So sit back, take your time and enjoy your Spanish tapas to the full. There is no better way to sample the real essence of Spain's life and culture.