Spanish Tapas Recipes and Methods
Here we have a selection of traditional tapas recipes, taken from my new recipe book (see below right), to give you a taste of the real Spain.
Tapas Recipes Book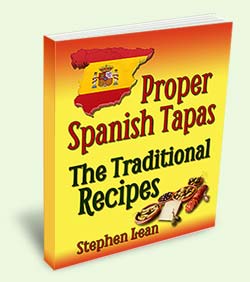 I will be changing them around on a reasonably regular basis, so if you keep coming back you'll eventually get them all for free!
However, if you want them all right now (and why wouldn't you?), just go straight to the tapas recipe book page.
You can order it in paperback, or if you're the impatient type you could order the ebook. Within two minutes you could be reading it on your Kindle, Nook, iPad/iPhone or other ereader. Or you could download the PDF and read it on your computer.
Mediterranean Eggs.
Serves 4:
4 hard-boiled eggs
50g (2oz) Roquefort cheese
100g (4oz) pitted black olives
1 tablespoon cottage cheese
3 tablespoons olive oil
A few leaves of the heart of a lettuce to decorate
Mayonnaise
Shell the hard-boiled eggs and slice them in half lengthways. Save a few whole olives for decoration and finely dice the rest. Save a small amount of the diced olives as well. Mix the hard-boiled egg yolks with the cheese, cottage cheese the diced olives and the olive oil. Stuff the eggs with this mixture. Put them on a serving dish, garnished with the lettuce leaves and whole olives, then sprinkle with the remaining diced olives. Serve with the mayonnaise.
Calamares Fritos (Fried Squid)
Serves 4. You can't go anywhere in Spain without coming across tapas recipes of fried squid.
Forget the rubbery rings you may have experienced elsewhere on your travels, properly cooked, fresh squid is meltingly tender in the middle and crunchy and lemony on the outside.
Do give it a go, but make sure your squids are fresh and that they didn't die of old age!
4 medium-sized fresh squids
3 tablespoons flour
½ teaspoon salt (or to taste)
freshly-ground black pepper
a couple of eggs, beaten
olive oil (for frying)
1 lemon, cut into wedges
To prepare and clean the squid, pull the tentacles gently away from the hood. This should bring out the intestines as well. Remove and discard the beak, cut off the tentacles from the gut and remove the soft bone from the hood. Wash the hood and tentacles under cold running water. Pull the skin away from the hood while doing this and discard it.
Cut the body into rings of about 1cm (½ inch) and the tentacles into bite-size pieces. Mix the flour, salt and pepper and coat the rings and tentacles in the mixture. Then dip them in the beaten egg and fry them in very hot oil until golden. Remove and drain on absorbent kitchen roll.
Serve with the lemon wedges and some extra seasoning if desired.
Empanadas de Cerdo (Pies of pork!)
Empanadas are basically pies. You can make a whole one in a pie dish and cut it into segments, or make them into little pasties or parcels. I prefer the little individual ones, it seems to fit in with the idea of tapas better.
This tapas recipe is for minced pork and roasted peppers but you can make them with minced beef or lamb, fish and seafood or vegetables. Or a combination of whatever takes your fancy!
You need to make about 500g (1lb) of pastry. I will assume you know how to do this. If not, any good cookbook will show you how. Bear in mind that you want a light, crumbly mixture so just cut the liquid in and don't knead it.
Makes about 20.
500g (1lb) of pastry
250g (1/2lb) of pork loin, minced
1 tsp. paprika
olive oil for roasting and frying
1/2 tsp. oregano
2 onions, chopped
1-2 cloves garlic, chopped
3 tomatoes, peeled, seeded and chopped
1 tsp. tomato puree
small handful chopped flat-leaf parsley
Salt and pepper
2 or 3 large red peppers, roasted and chopped
1 egg, beaten
Pre-heat the oven to 180°C (350°F, gas 4). Cut the peppers into quarters lengthways, remove the seeds and the membranes. Place in a roasting pan and drizzle liberally with some olive oil. Roast for about 30 to 40 minutes, depending on the size of your peppers.
Meanwhile, heat the oil in a frying pan and fry the onions until soft and translucent. Add the garlic and cook for another minute or two. Raise the heat and add the minced pork to brown it through.
Then add the paprika, oregano, tomatoes, puree, parsley and salt and pepper to taste. Stir it all together and cook for a further 5-10 minutes to get all those flavours going. At the last minute, add the chopped roasted pepper and combine.
Increase the heat of the oven to 190°C (375°F, gas 5) then roll out half the pastry very thinly so that you can cut about 20 rounds of 10cm (4in) diameter. Repeat with the other half.
Fill each round with a heaped tablespoon of the mixture and fold over into a pasty, brushing the edges with water and pinching them to seal them.
Place them on a lightly-oiled baking tray, brush them with the egg mixture and bake for about 30 mins. or until golden. Serve hot or cold.
Champiñones al ajillo (garlic mushrooms)
There are not many tapas recipes more Spanish than this. Gorgeous mushrooms infused with the exotic flavours of spices, olive oil, garlic and Spanish Sherry. Serves 4.
50ml (2 fl.oz) good, strong olive oil
250g (8 oz) mushrooms, sliced or quartered
4-6 cloves garlic, sliced, chopped or minced to taste
3 tablespoons dry sherry
2 tablespoons lemon juice
large pinch of dried chilli flakes
large pinch of pimenton (paprika)
Salt and freshly-ground black pepper
handful of chopped parsley, to garnish
Heat the oil in a frying pan or skillet and fry the mushrooms over high heat for 2 to 3 minutes, stirring constantly. Lower the heat to medium and add the garlic, lemon juice, sherry, salt and pepper.
For a milder flavour you can leave it at that if you like. But if you like a bit of 'fireworks', now's the time to add the dried chilli and paprika as well.
Cook for another 5 minutes or so until the garlic and mushrooms have softened then remove from the heat, sprinkle with chopped parsley and divide up into pre-heated 'little dishes'.
Serve with plenty of fresh, crusty bread to mop up those seriously-garlicky juices.
Want more recipes?
I hope you enjoyed this small selection, and thank you for visiting. If you would like more, just go straight to the tapas recipe book page and within two minutes you could have 32 of the most popular traditional tapas recipes delivered straight to your computer, or the ereader of your choice.