Spanish Tapas Recipes and Methods
Tapas recipes are as varied and interesting as the people who invented them. Here we'll look at what to buy, where to buy it, and how to prepare it.
Tapas Recipes Book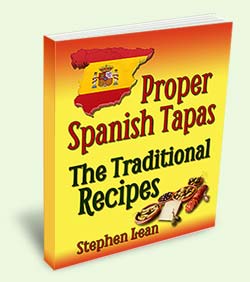 The wonderful thing about tapas is that it's food from the heart, to be enjoyed with friends.
So if you don't have a specific ingredient don't get too uptight about it, just use something else - they'll still love you for it!
If you can read, you can cook!
These web pages are not supposed to be a beginners cookery course! I am assuming that you have some knowledge of cooking and can find your way around the kitchen.
However, most tapas recipes are so simple that, as my dear mum always used to say: "If you can read it, you can cook it!"
Don't worry about getting everything perfectly to the ounce, measurements are only a guideline. A bit of this, a slosh of that and a glug of the other works just as well.
There is no 'standard' tapas recipe for any individual dish. A simple tortilla, the quintessential omelette, will have a different recipe in every region you may care to visit.
As a rule, tapas means small. The best way to enjoy it is as an aperitif with a glass of fino sherry, a good wine or a cold beer.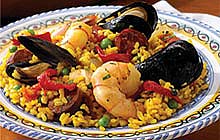 However, tapas are so versatile that many people make a complete meal of them. These are called 'raciones' and are available everywhere you find tapas. It's the same thing - only bigger!
The main thing though is to enjoy yourself and discover new ways with food and recipes, cooked and served the Spanish way: with soul, with flair and with passion. But, most importantly of all, with the people you love.
Enjoy!
New eBook - The Traditional Recipes
Basic store-cupboard ingredients