Spanish tapas regions
The origins of tapas are hugely diverse and each region takes its influences from its different historical periods and its developing cultures.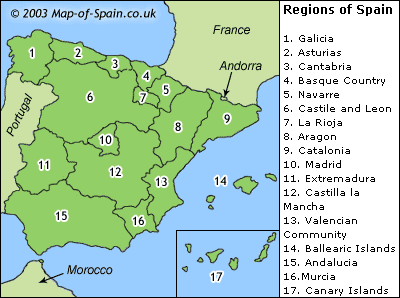 The Basque province has both wonderful fish and seafood from the Atlantic ocean and some of the finest cattle, sheep and dairy foods in Spain. Portions are large, as is to be expected in a cold climate, but the cooking has a certain refinement.
Dishes cooked al chilindrôn, in a flavourful sauce based on the particularly good local red peppers, and tomatoes, onions and garlic, are typical of Navarra and Aragon. Trout from the clear mountain streams that rise in the Pyrenees are a regional favourite, especially cooked with ham.
The food of Catalonia is exciting and richly varied and features interesting sauces, such as romesco and Allioli, aromatic herbs and noticeable similarities with French Mediterranean food, such as Zarzuela, a close cousin of bouillabaise.
Valencia and Murcia form one of the most densely populated and richest agricultural areas of Europe, and exhibit distinct Moorish influences. Here there are groves of orange and almonds, large market gardens and rice fields. The last two provide the ingredients for authentic Paella Valenciana - the addition of fish and shellfish is a modern adaptation that has become universally popular.
Andalucia is the land of olives, olive oil and sizzling fried foods, particularly the varied sea and shellfish from around the long coastline.
In contrast, Extremadura is a land of tough, hardy countrymen, and simple hearty cooking with many stew-type dishes.
The vast exposed Central Plain produces Spain's most well-known cheese: Manchego, as well as many other sheeps' milk cheeses. The area is most generally thought of as a land of roasts, principally young lamb and suckling pigs.
Galicia and Asturias are renowned for the quality of their fish and shellfish, and is the home of excellent Empanadas. The climate is comparatively cold and wet, so appetities tend to be hearty and the local dishes correspondingly warming and filling. Locally produced cider is popular for drinking and also for using in cooking.